Center for Teaching and Learning
Academic Year 2023-24 Programming
Faculty Research and Writing Colloquiums Fall 2023 and Spring 2024
The Colloquium is a semester-long, longitudinal faculty development experience intended for new and junior faculty members who are actively working on a research and writing project.
The purpose of the program is to provide a protected development time for writing, accompanied by mentoring, coaching, and peer review to help faculty members complete their research and writing projects.
Fall Cohort meets September-December, 2023
Meeting dates: September 7, 21; October 12, 19; November 2, 16, 30
Spring Cohort meets January-May, 2024
The Colloquium cohort is located on the Macon Campus, led by Dr. Deneen Senasi, Professor of English and Writing Director, College of Liberal Arts and Sciences.
Apply for the Fall 2023 Cohort
---
Upcoming Faculty Development Session Topics
AI-Resilient Instruction: 3-part series on the Atlanta campus
Canvas Essentials for Instruction, multiple sessions in August / September
Using the Quality Matters Rubric with Online Course Design
Universal Design for Learning Framework in Course Design and Instruction
Scholarship of Teaching and Learning
The Center for Teaching & Learning offers university-wide support for instruction to all Mercer faculty members.
The Center offers events along with group and one-on-one support and guidance for teaching in traditional face-to-face and online distance learning courses.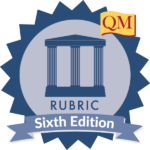 Dr. Susan Codone is the Center Director. She is certified as an Institutional Coordinator for Quality Matters and in Applying the Quality Matters Rubric for Distance Learning.